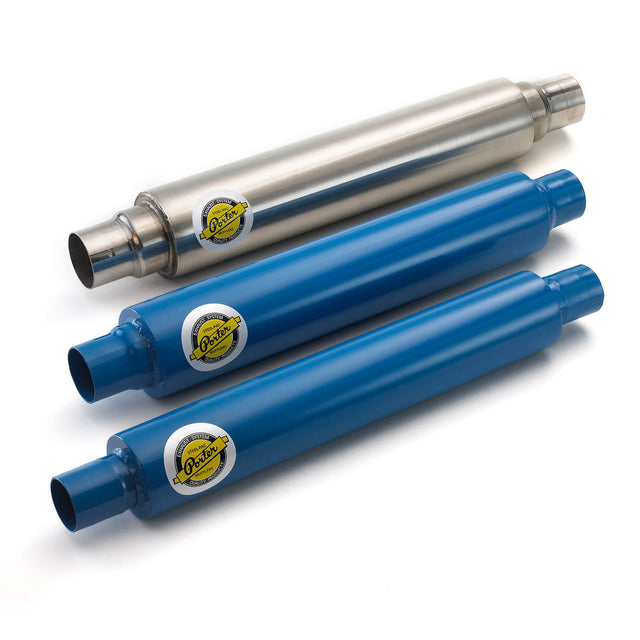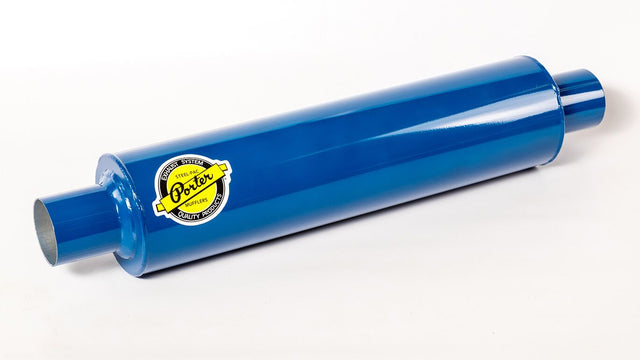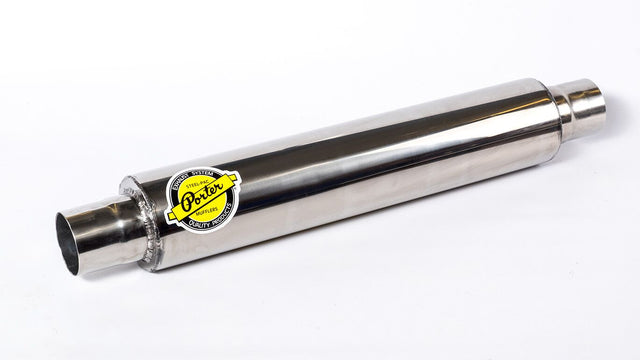 Porter's Standard Length Muffler
Select Inlet/Outlet Diameter
Body Length- 20" Overall Length- 26"
All Porter Mufflers are non-directional, allowing them to be mounted in either direction. Exhaust gas passes through the center of the steel spiral core with the sound dissipating into the stainless-steel packing preventing drone. Unlike glass-packed mufflers, our steel-packed mufflers will never break down. 
Created back in 1931, our first ever product, that has set the standard for the future of our company.  To continue our tradition of quality each Porter Muffler is handmade using only the best heavy gauge and high quality steel products sourced in the U.S.A.



Finish/Color




Straight




Inlet/Outlet Diameter




Body Diameter

 

Internal Diameter

 

Part Number





Ceramic-Painted Blue




✓




1.75




3.5

 

1.375




PM35175




Stainless Steel




✓




1.75




3.5
1.375




SSPM35175

Ceramic-Painted Blue

✓

2.00
3.5
1.375
PM35200

Stainless Steel

✓

2.00
3.5
1.375
SSPM35200

Ceramic-Painted Blue

✓

2.25
4.0
2.00

PM40225

Stainless Steel

✓

2.25
4.0
2.00

SSPM40225

Ceramic-Painted Blue

✓

2.50
4.0
2.50

PM40250

Stainless Steel

✓

2.5
4.0
2.50

SSPM40250

Ceramic-Painted Blue

✓

3.0
4.0
3.00

PM40300

Stainless Steel

✓

3.0
4.0
3.00

SSPM40300